---
Leadership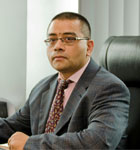 Ifty Islam
Group Chairman of Asian Tiger Capital Partners
Ifty Islam is Chairman and a founding partner of AT Capital establishing the firm in 2007. Since then Ifty has focused on corporate advisory, macro strategy and sector research with a wide range of clients including leading international fund managers as well as large local corporates. Ifty was the advisor to the China Consortium on the recently concluded 25% investment by the Shenzhen and Shanghai Stock Exchanges in the Dhaka Stock Exchange and is actively involved in supporting Bangladesh's engagement in the BRI across different sectors. Ifty is also the CEO of Easywatts BD, a UK based company developing renewable energy and other infrastructure projects. In addition, Ifty has worked on consulting projects for the Government of Bangladesh in a number of areas, from PPP, to Capital Markets Development, Climate Change, RMG and the Energy Sector. Prior to moving to Dhaka, Ifty was a Managing Director at Citigroup, London from 2004-2007 where he was Head of Macro Strategy/Hedge Fund Research. From 1997-2004 Ifty spent 8 years at Deutsche Bank Securities in London and New York, latterly as Managing Director and Chief US Strategist. Ifty has also worked as a European Strategist at Merrill Lynch and began his career in 1989 in the corporate finance group at BZW Securities focusing on privatizations in Eastern Europe. He graduated from the Queen's College, Oxford with a BA/MA (First Class) in Politics, Philosophy and Economics.
---
Syeed Khan
Managing Director of Asian Tiger Capital Partners
Syeed Khan was a founding partner of AT Capital in 2007 when he moved to Bangladesh from the UK. In Bangladesh he has provided IBK/advisory services to both local and international corporates and international Private Equity/Global EM funds, across various sectors including Telecoms, Healthcare, Education, IT and Energy, as well as multilaterals including the Asian Development Bank, the IFC and the World Bank. He assumed his role in AT Capital Asset Management in 2010 on its formation initially as Managing Director/CEO and continues as its Chairman since 2012. Since 2014, Syeed is Chief Executive Officer of Osiris Bangladesh, Osiris Asia Impact Fund, an emerging markets Private Equity Fund making Impact Investments in Bangladesh and sits on the board of directors of Surecash (Progoti Systems), Solaric and AFC Health. Prior to Bangladesh, he worked in M&A/Corporate Finance in London for Landsbanki Securities, a Pan European Investment Bank. He qualified as a Chartered Accountant (CA) with the Institute of Chartered Accountants of Scotland with Ernst & Young LLP in London. He is a Member of the Securities Institute in the UK (MSI). Syeed read Law (LLB) at Aberdeen University and completed a Post Graduate Diploma in Management Studies (DMS) from Aberdeen Business School.
---
MD Minhaz Zia, CFA
Director of Asian Tiger Capital Partners
MD Minhaz Zia is a well known professional in the field of corporate finance and principal investments in Bangladesh, having more than two and half decades of wide ranging experience gained at different leading financial institutions. Prior to joining AT Capital, he worked for five years as the Managing Director and CEO of Sabinco, a leading DFI with particular focus on project finance and private equity across various sectors including Energy and Infrastructure, Telecoms and Agro-based industries. Before that he was the General Manager of IDLC Finance, where he headed the Corporate Finance, Structured Finance and Capital Market Divisions. He served the company for nearly two decades starting as one of its founding members, developing it from its original Lease Finance business, to make it the countrys leading non-banking financial institution providing a multi product offering. He is a CFA charter holder, US, and has an MBA degree from IBA of Dhaka University.
---
Mir Mahfuz Ur Rahman
Director of Asian Tiger Capital Partners
Mir Mahfuz Ur Rahman is a Partner at AT Capital. He is an experienced corporate finance advisor in Bangladesh having experience in advising international companies, including Lafarge Cement, Brightstar USA, Marico Industries, Dabur Group, and Emami Limited, in M&A and IPO strategy and execution in Bangladesh. Mahfuz was previously the Head of Merchant Banking for Equity Partners, a Bangladesh based merchant bank, where he executed 10 IPOs over 5 years in this country. Prior to that he was an Analyst in Corporate Finance at Lehman Brothers in New York and an Associate with Peregrine Capital in Dhaka. Mahfuz is also a founder of a leading software integration company and of a data communication service provider in the country. He has a B. A. degree (magna cum laude, Phi Beta Kappa) in economics and international relations from Dickinson College, Carlisle, Pennsylvania, USA, and a M. A. (Distinction) in International Relations and Economics from SAIS, Johns Hopkins University.
---