---
Leadership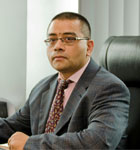 Ifty Islam
Chairman of AT Capital and Co Founder of RGC
Ifty Islam is the Chairman of Asian Tiger Capital and co founder of Red Green Consulting (RGC) investment banking firms based in Dhaka and London respectively. Ifty was the advisor to the China Consortium on the 25% strategic partner investment by the Shenzhen and Shanghai Stock Exchanges in the Dhaka Stock Exchange. AT Capital also has a joint venture partnership with leading Chinese Fintech Kingdom Shenzhen Sci. Tech. focused on capital markets technology. He is also the Co-Founder of Infiniti Tech, a UK-based technology company. Prior to this, Ifty was the CEO and co-founder of Miup, a University of Tokyo based Health AI company that has developed a primary healthcare platform to leverage AI and big data technologies to promote pre-emptive medicine in the battle against NCDs. Ifty has a passion for technology and has been working as an advisor and investor in innovative start up companies. Prior to establishing AT Capital in 2007, Ifty was a Managing Director at Citigroup, London from 2004-2007 where he was Head of Macro Strategy/Hedge Fund Research. From 1997-2004 Ifty spent 8 years at Deutsche Bank Securities in London and New York, latterly as Managing Director and Chief US Strategist. He graduated from the Queen's College, Oxford with a BA/MA (First Class) in Politics, Philosophy and Economics.
---
MD Minhaz Zia, CFA
Director of Asian Tiger Capital Partners
MD Minhaz Zia is a well known professional in the field of corporate finance and principal investments in Bangladesh, having more than two and half decades of wide ranging experience gained at different leading financial institutions. Prior to joining AT Capital, he worked for five years as the Managing Director and CEO of Sabinco, a leading DFI with particular focus on project finance and private equity across various sectors including Energy and Infrastructure, Telecoms and Agro-based industries. Before that he was the General Manager of IDLC Finance, where he headed the Corporate Finance, Structured Finance and Capital Market Divisions. He served the company for nearly two decades starting as one of its founding members, developing it from its original Lease Finance business, to make it the countrys leading non-banking financial institution providing a multi product offering. He is a CFA charter holder, US, and has an MBA degree from IBA of Dhaka University.
---
Mir Mahfuz Ur Rahman
Director of Asian Tiger Capital Partners
Mir Mahfuz Ur Rahman is a Partner at AT Capital. He is an experienced corporate finance advisor in Bangladesh having experience in advising international companies, including Lafarge Cement, Brightstar USA, Marico Industries, Dabur Group, and Emami Limited, in M&A and IPO strategy and execution in Bangladesh. Mahfuz was previously the Head of Merchant Banking for Equity Partners, a Bangladesh based merchant bank, where he executed 10 IPOs over 5 years in this country. Prior to that he was an Analyst in Corporate Finance at Lehman Brothers in New York and an Associate with Peregrine Capital in Dhaka. Mahfuz is also a founder of a leading software integration company and of a data communication service provider in the country. He has a B. A. degree (magna cum laude, Phi Beta Kappa) in economics and international relations from Dickinson College, Carlisle, Pennsylvania, USA, and a M. A. (Distinction) in International Relations and Economics from SAIS, Johns Hopkins University.
---